About us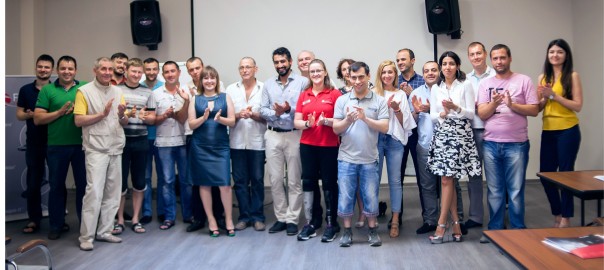 Company "Nertus" is a young and promising enterprise created in 2013, dealing with supplies of rehabilitation devices, high-quality components and materials for manufacturing prostheses and orthoses of upper and lower limbs, orthopaedic footwear and insoles.
Our key objective is the implementation of innovative technologies in the fields of prosthetics and orthotics at the Ukrainian market and supplies of high-class materials and components to prosthetic and orthotic enterprises aimed at increasing the level of prosthetics in Ukraine.
We cooperate with all state prosthetic and orthotic enterprises of Ukraine and private prosthetic and orthotic companies, taking care of the availability of latest developments in this field for everybody who needs them.
COMPANY "NERTUS" GUARANTEES:
Qualified consultation with a specialist.

High level of service.

Qualitative components at reasonable prices.
In Ukraine, Nertus is the only exclusive distributor of such companies as Freedom Innovations (development and production of carbon feet), Nabtesco (manufacturer of modern knee joints), Becker (leading orthotic products manufacturer), each company being the world leader in its field. We ensure supply of components for prostheses from Japan, Turkey, the USA and other countries to Ukraine.
We guarantee the highest quality of all materials and components, so that you can be sure that only qualitative prostheses with a long performance lifespan are created from them, helping a person lead a full and active lifestyle without any restrictions.
Our specialists are continuously increasing the level of their qualifications, visiting various trainings and seminars. Seminars, scientific consultations and presentations of modern equipment and components of prosthetic devices are held from time to time on the basis of our company.  We have successfully organised conferences with participation of manufacturers from the USA and Japan, aimed at familiarisation of specialists from Ukraine with the latest possibilities in prosthetics and to demonstrate advantages of the latest developments of world manufacturers in the field to Ukrainian prosthetic technicians.  We understand how important it is to develop and to promptly implement the latest solutions – the lifestyle quality of hundreds of Ukrainians depends on it. Thus, our representatives constantly visit exhibitions where best world industry leaders are represented.
COMPANY HISTORY
Company Nertus was created in May 2013 to supply modern high-quality components to prosthetic and orthotic enterprises of Ukraine. 
Contract with Turkish company OrtoTEK was signed. First supplies of components and materials to prosthetic and orthotic enterprises of Ukraine.
Search for new partners to expand the range of products.  By the end of 2014 – contract with the leading orthopaedic products manufacturer, company Becker Orthopedic, was concluded and the first product order was made.
Contract with Spanish company Ortoplast for materials supply was concluded. Contract for components supply to prosthetic devices with the US company "Freedom Innovations' was signed. Start of negotiations with company Nabtesco, Japan. Implementation of new technologies in the field of individual feet orthoses manufacturing, equipment purchase for CAD-CAM individual orthopaedic insoles manufacturing. 
Component supplies of Nabtesco company (Japan) were established. Training conferences with representatives of Freedom Innovations (USA) and Nabtesco companies were held. 
Advantages of company «Nertus»